From among the saints commemorated on the 22nd of May, we especially remember the life and works of Saint John-Vladimir, Prince of Serbia, Greatmartyr and Wonderworker.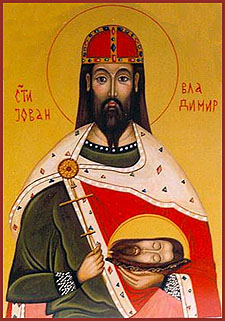 The Holy Martyr John-Vladimir, a Serbian prince, was born in the tenth century. From his childhood he was raised in piety, and at maturity he wisely governed his holdings Illyria and Dalmatia, preserving the holy Faith in purity.
The noble prince was married to Kosara, a daughter of the Bulgarian Tsar Samuel. Summoned for talks with the Bulgarian Tsar John-Vladislav, he was treacherously murdered by the Tsar on May 22, 1015, at the entrance to a church. Kosara, the pious spouse of the holy prince, entered a women's monastery that she built, and where also she died, not leaving the church until the very end of her life. The relics of the holy prince are located near Elbosan.