From among the holy ones commemorated on the 22nd of January, we especially remember the New Martyrs and Confessors of Russia.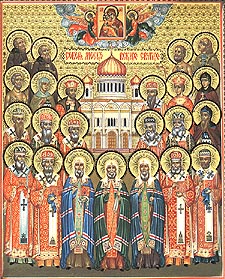 On the Sunday closest to January 25, the Church commemorates the Synaxis of the Holy New Martyrs and Confessors of Russia, remembering all those Orthodox Christians who suffered for Christ at the hands of the godless Soviets during the years of persecution. These include the royal Passion Bearers Tsar Nicholas II and his family, and the Grand Duchess Elizabeth. Countless thousands of martyrs, both clergy and laity also suffered, some of whose names are known, as well as millions of simple believers whose names have been lost to history.
It is estimated that the number of the New Martyrs of Russia, who were glorified by the Russian Orthodox Church at the Jubilee Council of 2000, far exceeds that of all the martyrs who died for Christ during the first three centuries of Christianity. The Russian Church lost millions of its sons and daughters, not only at the hands of external enemies, but also those of their own country. Among those who were murdered and tortured in the years of persecution were countless Orthodox: laity, monks, priests, and bishops, whose only "crime" was their unshakable faith in God.
In the long history of the world, never have so many new heavenly intercessors been glorified by the Church in such a way (more than one thousand New Martyrs were numbered among the saints). Among those who suffered for their faith were some who labored in America before the Russian Revolution: St. Tikhon, Patriarch of Moscow and All Russia (April 7); St. Alexander Hotovitzky (Dec. 4); St. John Kochurov (Oct. 31).