From among the saints commemorated on the 18th of April, we especially remember the life and works of Venerable Euthymius, Englightener of Karelia as well as the Righteous Anthony and Felix.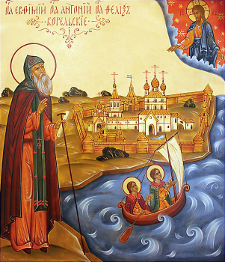 According to an ancient manuscript Hemerologion (Ημερολογιον), Saint Euthymios was born in the second half of the XIV century. From his youth, he felt drawn to the monastic life, so when he reached adulthood, he travelled north around the year 1400, in order to live as an Anchorite. Later, about 1410, several disciples came to him, begging him to guide them in the monastic life. On the shores of the White Sea in Karelia, 34 versts from Archangelsk, they built a monastery dedicated to the Holy Wonderworker Saint Nicholas of Myra in Lycia (December 6), with cells for the monks.
At first, nothing seemed to go well for the monks, who had settled in an area inhabited by pagans. Saint Euthymius knew, however, that in the place where they labored, one day the monastic life would be firmly established, and the Faith would flourish.
In 1418, the Venerable Anthony and Felix, the two devout sons of Martha Boretska, the wife of a government official (посадница) from Novgorod, were drowned at the mouth of the North Dvina River while exploring the land. These young brothers were buried at Saint Nicholas monastery. In life, they were distinguished for their works of charity, and their grief-stricken mother asked Saint Euthymius to pray for the sons who had been taken from her. Subsequently, their names were included in the manuscript Lives of the Saints of Saint Nicholas Monastery.
In 1419, the monastery was destroyed by Norwegian invaders, who descended upon the monastery, burned the church, and killed several of the monks. Saint Euthymius decided that he would rebuild the monastery, and Martha Boretska gave a large sum of money for the monastery to be rebuilt over the graves of her sons.
Saint Euthymius reposed peacefully in 1435, and was buried at the monastery in Karelia, as were his disciples Stephen the Ascetic, Isaiah, and Nikanor.
In 1641, Saint Euthymios of Karelia was glorified for his apostolic labors in Karelia, and his holy relics were uncovered in 1647. Now they rest in a hidden place within the monastery.
A Church Service has been composed for Saints Euthymius, Anthony and Felix. They are commemorated on April 18, and again on May 21, the Synaxis of All Saints of Karelia.