An Icon of an Icon of Repentance: The Prodigal Son
Adapted from A Reader's Guide to Orthodox Icons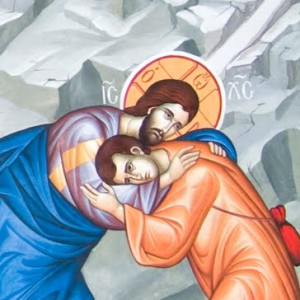 The third Sunday before the start of Great Lent is dedicated to the Parable of the Prodigal Son. This parable is celebrated in the pre-fasting period because it is considered in Orthodoxy as a perfect reflection, or icon, of the nature of sin and the nature of repentance.
Jesus' parable of the Prodigal (in Greek: Η παραβολή του ασώτου υιού) is the final part of a trilogy of parables, told together after the Pharisees and Scribes grumbled among themselves that Christ was eating with sinners. Within the hearing of those assembled, Jesus delivers the parable of the Good Shepherd, the parable of the Lost Coin, and finally the parable of the Prodigal (wasteful) Son:
A certain man had two sons. And the younger of them said to his father: "Father, give me the portion of goods that falls to me." So he divided to them his livelihood. And not many days after, the younger son gathered all together, journeyed to a far country, and there wasted his possessions with prodigal living.

But when he had spent all, there arose a severe famine in that land, and he began to be in want. Then he went and joined himself to a citizen of that country, and he sent him into his fields to feed swine. And he would gladly have filled his stomach with the pods that the swine ate, and no one gave him anything.

But when he came to himself, he said: "How many of my father's hired servants have bread enough and to spare, and I perish with hunger! I will arise and go to my father, and will say to him, 'Father, I have sinned against heaven and before you, and I am no longer worthy to be called your son. Make me like one of your hired servants.'"

And he arose and came to his father. But when he was still a great way off, his father saw him and had compassion, and ran and fell on his neck and kissed him. And the son said to him, "Father, I have sinned against heaven and in your sight, and am no longer worthy to be called your son."

But the father said to his servants, "Bring out the best robe and put it on him, and put a ring on his hand and sandals on his feet. And bring the fatted calf here and kill it, and let us eat and be merry; for this my son was dead and is alive again; he was lost and is found." And they began to be merry.

Now his older son was in the field. And as he came and drew near to the house, he heard music and dancing. So he called one of the servants and asked what these things meant. And he said to him, "Your brother has come, and because he has received him safe and sound, your father has killed the fatted calf."

But he was angry and would not go in. Therefore his father came out and pleaded with him. So he answered and said to his father, "Lo, these many years I have been serving you; I never transgressed your commandment at any time; and yet you never gave me a young goat, that I might make merry with my friends. But as soon as this son of yours came, who has devoured your livelihood with harlots, you killed the fatted calf for him."

And he said to him, "Son, you are always with me, and all that I have is yours."

(Luke 15:11-31)
The parable describes sin as a kind of exile from our Father's house, where we are the younger son. Inside the house is salvation; outside is a life of starving among the swine. Our exile is not enforced: the young son chose to leave the house and waste his inheritance on things which did not last. We are the same whilst we continue to squander the things we have, all of which are gifts from God. Neither are we barred from returning: all the young son did was to come to his senses ("he came to himself") and realize that he didn't need to live this way. The son decided to return to his father, not as a son coming to reclaim his inheritance, but as a hired slave willing to serve.
This is the heart of humble repentance: realizing the treasures of the "Father's house" and having the sense and will to rise up and turn back home. In doing so we forget our pride, admit all the things we have done wrong, and throw ourselves on our Father's mercy. The results of such an act are shown in the parable.
And in doing this we make sure we don't then become like the elder brother. Despite working diligently for his father and receiving the blessings of life there, the elder brother, upon seeing the wasteful son being accepted back, refused to enter the house in anger. By doing so, he put himself outside the father's house, representing salvation. The father calls him back – "you are always with me, and all that I have is yours" – but Jesus leaves the parable open as to whether the older son returns.
REPORT THIS AD
The Icon of the Parable of the Prodigal Son
The parable of the prodigal in iconography is usually found as frescoes on church walls, reminding the faithful of its lessons. Often, the main image shown is the embrace of father and son, cloaks billowing as the two fall upon the other's neck in love. Here is a good example of such an image. Sometimes, however, the father in the parable is depicted as Jesus Christ Himself, as in this beautiful 16th century example:
To the right is the prodigal son despondent among the swine, whilst to the left he has returned to the father, shown unmistakably as Jesus Christ.
Above them is an empty throne surrounded by angels; a heavenly throne. It is empty because Jesus Christ our God descended from heaven and became man so that whilst we, as repentant sinners, were "still a great way off", He could rush out to meet us. Knowing those of us who have come to our senses and risen up, Jesus Christ runs the greater distance to embrace us, clothe us, feed us, and bring us into the Father's house.
When I disobeyed in ignorance Your fatherly glory,
I wasted in iniquities the riches that You gave me.
Therefore, I cry to You with the voice of the prodigal son:
"I have sinned before You, O compassionate Father, receive me repentant,
And make me as one of Your hired servants".
[Kontakion for the Sunday of the Prodigal]