Sunday of the Forefathers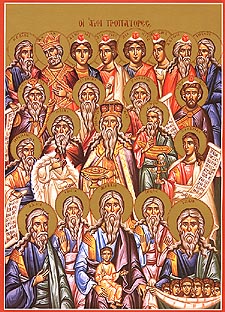 On the two Sundays preceding the Feast of the Nativity of Christ, the Church intensifies our preparation for that Feast with two special commemorations. Today, the first of those two commemorations, is known as the Sunday of the Forefathers of Christ and commemorates all the Patriarchs and Prophets of the Old Testament.
Last night at Vespers, we chanted "Let us rejoice together, we who are friends of the Fathers, in commemorating their memory...." One wonders whether these words correspond to any genuine feeling on the part of the majority of Christians, many of whom have lost touch with the Old Testament, and neither read it nor understand it.
-------------------------------------------------------------------------------------------------------------
The following readings below are for Sunday, December 16, 2018:
Today's Epistle reading [Colossians 3.4-11]:
When Christ who is our life appears, then you also will appear with him in glory.
Put to death therefore what is earthly in you: immorality, impurity, passion, evil desire, and covetousness, which is idolatry. On account of these the wrath of God is coming. In these you once walked, when you lived with them. But now put them all away: anger, wrath, malice, slander, and foul talk from your mouth. Do not lie to one another, seeing that you have put off the old nature with its practices and have put on the new nature, which is being renewed in knowledge after the image of its creator. Here there cannot be Greek and Jew, circumcised and uncircumcised, barbarian, Scythian, slave, free man, but Christ is all, and in all.
-------------------------------------------------------------------------------------------------
The Gospel reading for today [Luke 14.16-24]:
"But he said to him, "A man once gave a great banquet, and invited many; and at the time for the banquet he sent his servant to say to those who had been invited, 'Come; for all is now ready.' But they all alike began to make excuses. The first said to him, 'I have bought a field, and I must go out and see it; I pray you, have me excused.' And another said, 'I have bought five yoke of oxen, and I go to examine them; I pray you, have me excused.' And another said, 'I have married a wife, and therefore I cannot come.' So the servant came and reported this to his master. Then the householder in anger said to his servant, 'Go out quickly to the streets and lanes of the city, and bring in the poor and maimed and blind and lame.' And the servant said, 'Sir, what you commanded has been done, and still there is room.' And the master said to the servant, 'Go out to the highways and hedges, and compel people to come in, that my house may be filled. For I tell you, none of those men who were invited shall taste my banquet'."