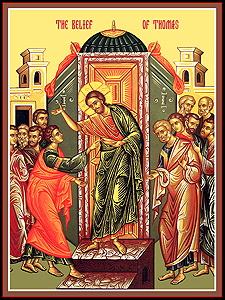 The Sunday after Pascha, called the Second Sunday, is thus the eighth day of the paschal celebration, the last day of Bright Week. It is, therefore, called the Antipascha, and it was only on this day in the early Church that the newly-baptized Christians removed their white robes and entered once again into the life of this world. In the Services today, the stress is on the Apostle Thomas' vision of the Lord and the significance of the day comes to us in the words of the Gospel. See below.
The readings below are for Sunday, April 23, 2017:
Today's Epistle reading [Acts 5.12-20]:
Now many signs and wonders were done among the people by the hands of the apostles. And they were all together in Solomon's Portico. None of the rest dared join them, but the people held them in high honor. And more than ever believers were added to the Lord, multitudes both of men and women, so that they even carried out the sick into the streets, and laid them on beds and pallets, that as Peter came by at least his shadow might fall on some of them. The people also gathered from the towns around Jerusalem, bringing the sick and those afflicted with unclean spirits, and they were all healed.
But the high priest rose up and all who were with him, that is, the party of the Sadducees, and filled with jealousy they arrested the apostles and put them in the common prison. But at night an angel of the Lord opened the prison doors and brought them out and said, "Go and stand in the temple and speak to the people all the words of this Life."
-------------------------------------------------------------------------------------------------
The Gospel reading for today [John 20.27-29]:
Then he said to Thomas, "Put your finger here, and see my hands; and put out your hand, and place it in my side; do not be faithless, but believing." Thomas answered him, "My Lord and my God!" Jesus said to him "Have you believed because you have seen me? Blessed are those who have not seen and yet believe."