Sunday of the Publican and the Pharisee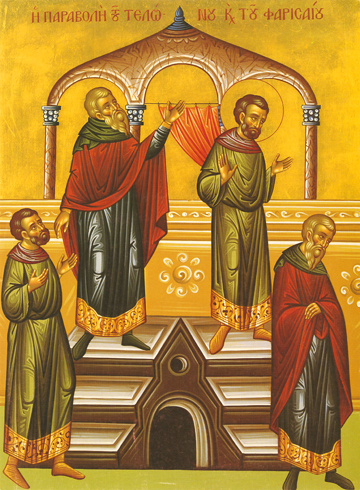 "Open to me the doors of repentance…." sings the Church at Matins today for this first of our four Sundays which prepare us for Great Lent. Indeed, this Sunday could be thought of as a door: a door which opens into the atmosphere of repentance, to that life of repentance which Great Lent is designed to bring to each of us.

In the Gospel reading today, two men go to the Temple to pray. One was a Pharisee who scrupulously observed the requirements of religion: he prayed, fasted, and contributed funds to the Temple. These are very good things, and should be imitated by anyone who loves God. We who may not fulfill these requirements as well as the Pharisee did should not feel entitled to criticize him for being faithful. His transgression is in looking down on the Publican and feeling justified because of his external religious observances. The second man is a Publican, a tax-collector who was despised by the people. He, however, displays humility, and this humility justifies him before God. The lesson to be learned is that we possess neither the Pharisee's religious piety, nor the Publican's repentance, through which we can be saved. We are called to see ourselves as we really are in the light of Christ's teaching, asking him to be merciful to us, deliver us from sin, and to lead us on the path of salvation.
-------------------------------------------------------------------------------------------------------------
The following readings below are for Sunday, January 24, 2021:
Today's Epistle reading [2 Timothy 3.10-15]
Now you have observed my teaching, my conduct, my aim in life, my faith, my patience, my love, my steadfastness,
my persecutions, my sufferings, what befell me at Antioch, at Iconium, and at Lystra, what persecutions I endured; yet from them all the Lord rescued me.
Indeed all who desire to live a godly life in Christ Jesus will be persecuted,
while evil men and impostors will go on from bad to worse, deceivers and deceived.
But as for you, continue in what you have learned and have firmly believed, knowing from whom you learned it
and how from childhood you have been acquainted with the sacred writings which are able to instruct you for salvation through faith in Christ Jesus.


-------------------------------------------------------------------------------------------------
The Gospel reading for today [Luke 18.10-14]:
"Two men went up into the temple to pray, one a Pharisee and the other a tax collector.
The Pharisee stood and prayed thus with himself, 'God, I thank thee that I am not like other men, extortioners, unjust, adulterers, or even like this tax collector.
I fast twice a week, I give tithes of all that I get.'
But the tax collector, standing far off, would not even lift up his eyes to heaven, but beat his breast, saying, 'God, be merciful to me a sinner!'
I tell you, this man went down to his house justified rather than the other; for every one who exalts himself will be humbled, but he who humbles himself will be exalted."