Sunday of the Fathers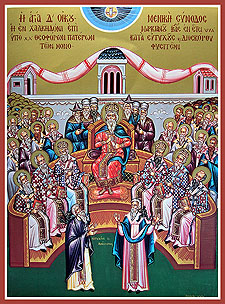 On the Sunday that falls between the 13th and the 19th of July, we commemorate the Holy and God-bearing Fathers who participated in the first six Ecumenical Councils. It is not the personal holiness of these bishops which we affirm and honor today but rather their collective witness to our belief.
-------------------------------------------------------------------------------------------------------------
The following readings below are for Sunday, July 14, 2019:
Today's Epistle reading [Hebrews 13.7-16]
Remember your leaders, those who spoke to you the word of God; consider the outcome of their life, and imitate their faith. Jesus Christ is the same yesterday and today and for ever. Do not be led away by diverse and strange teachings; for it is well that the heart be strengthened by grace, not by foods, which have not benefited their adherents. We have an altar from which those who serve the tent have no right to eat. For the bodies of those animals whose blood is brought into the sanctuary by the high priest as a sacrifice for sin are burned outside the camp. So Jesus also suffered outside the gate in order to sanctify the people through his own blood. Therefore let us go forth to him outside the camp, bearing abuse for him. For here we have no lasting city, but we seek the city which is to come. Through him then let us continually offer up a sacrifice of praise to God, that is, the fruit of lips that acknowledge his name. Do not neglect to do good and to share what you have, for such sacrifices are pleasing to God.
-------------------------------------------------------------------------------------------------
The Gospel reading for today [John 17.1-13]:
When Jesus had spoken these words, he lifted up his eyes to heaven and said, "Father, the hour has come; glorify thy Son that the Son may glorify thee, since thou hast given him power over all flesh, to give eternal life to all whom thou hast given him. And this is eternal life, that they know thee the only true God, and Jesus Christ whom thou hast sent. I glorified thee on earth, having accomplished the work which thou gavest me to do; and now, Father, glorify thou me in thy own presence with the glory which I had with thee before the world was made.
I have manifested thy name to the men whom thou gavest me out of the world; thine they were, and thou gavest them to me, and they have kept thy word. Now they know that everything that thou hast given me is from thee; for I have given them the words which thou gavest me, and they have received them and know in truth that I came from thee; and they have believed that thou didst send me. I am praying for them; I am not praying for the world but for those whom thou hast given me, for they are thine; all mine are thine, and thine are mine, and I am glorified in them. And now I am no more in the world, but they are in the world, and I am coming to thee. Holy Father, keep them in thy name which thou hast given me, that they may be one, even as we are on. While I was with them, I kept them in thy name which thou hast given me: I have guarded them, and none of them is lost but the son of perdition, that the scripture might be fulfilled. But now I am coming to thee; and these things I speak in the world, that they may have my joy fulfilled in themselves.