Forefeast of the Dormition of our Most Holy Lady the Mother of God
and Ever-Virgin Mary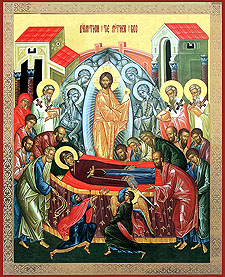 On this tenth Sunday after Pentecost, we read at the Liturgy the Gospel account of the healing of a young boy with a demon; a different version of this same episode was read on the fourth Sunday of Great Lent.
In the Epistle reading today, Saint Paul attacks the self-importance, and the lack of humility and obedience of some of the Christians at Corinth with great irony: "We are fools…. but you are wise…. We are weak…. but you are strong….." Although Paul initially speaks of this inferiority of the apostles ironically, he then goes on to speak of it with the utmost seriousness, vindicating it as a reality and a privilege.
-------------------------------------------------------------------------------------------------------------
The following readings below are for Sunday, August 14, 2022
Today's Epistle reading [1 Corinthians 4.9-16]:


For I think that God has exhibited us apostles as last of all, like men sentenced to death; because we have become a spectacle to the world, to angels and to men. We are fools for Christ's sake, but you are wise in Christ. We are weak, but you are strong. You are held in honor, but we in disrepute. To the present hour we hunger and thirst, we are ill-clad and buffeted and homeless, and we labor, working with our own hands. When reviled, we bless; when persecuted, we endure; when slandered, we try to conciliate; we have become, and are now, as the refuse of the world, the offscouring of all things. I do not write this to make you ashamed, but to admonish you as my beloved children. For though you have countless guides in Christ, you do not have many fathers. For I became your father in Christ Jesus through the gospel. I urge you, then, be imitators of me.
-------------------------------------------------------------------------------------------------
The Gospel reading for today [Matthew 17.14-23]:


And when they came to the crowd, a man came up to him and kneeling before him said, "Lord, have mercy on my son, for he is an epileptic and he suffers terribly; for often he falls into the fire, and often into the water. And I brought him to your disciples, and they could not heal him." And Jesus answered, "O faithless and perverse generation, how long am I to be with you? How long am I to bear with you? Bring him here to me." And Jesus rebuked him, and the demon came out of him, and the boy was cured instantly. Then the disciples came to Jesus privately and said, "Why could we not cast it out?" He said to them, "Because of your little faith. For truly, I say to you, if you have faith as a grain of mustard seed, you will say to this mountain, 'Move from here to there,' and it will move; and nothing will be impossible to you."
As they were gathering in Galilee, Jesus said to them, "The Son of man is to be delivered into the hands of men, and they will kill him, and he will be raised on the third day." And they were greatly distressed.