Twentieth Sunday after Pentecost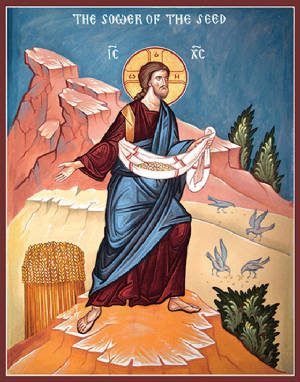 -------------------------------------------------------------------------------------------------------------
The following readings below are for Sunday, October 18, 2020:
Today's Epistle reading [Galatians 1.11-19]

For I would have you know, brethren, that the gospel which was preached by me is not man's gospel. For I did not receive it from man, nor was I taught it, but it came through a revelation of Jesus Christ. For you have heard of my former life in Judaism, how I persecuted the church of God violently and tried to destroy it; and I advanced in Judaism beyond many of my own age among my people, so extremely jealous was I for the traditions of my fathers. But when he who had set me apart before I was born, and had called me through his grace, was pleased to reveal his Son to me, in order that I might preach him among the Gentiles, I did not confer with flesh and blood, nor did I go up to Jerusalem to those who were apostles before me, but I went away into Arabia; and again I returned to Damascus

Then after three years I went up to Jerusalem to visit Cephas, and remained with him fifteen days. But I saw none of the other apostles except James the Lord's brother.
-------------------------------------------------------------------------------------------------
The Gospel reading for today [Luke 8.5-15]:
"A sower went out to sow his seed; and as he sowed, some fell along the path, and was trodden under foot, and the birds of the air devoured it. And some fell on the rock; and as it grew up, it withered away, because it had no moisture. And some fell among thorns; and the thorns grew with it and choked it. And some fell into good soil and grew, and yielded a hundredfold." As he said this, he called out, "He who has ears to hear, let him hear."

And when his disciples asked him what this parable meant, he said, "To you it has been given to know the secrets of the kingdom of God; but for others they are in parables, so that seeing they may not see, and hearing they may not understand. Now the parable is this: The seed is the word of God. The ones along the path are those who have heard; then the devil comes and takes away the word from their hearts, that they may not believe and be saved. And the ones on the rock are those who, when they hear the word, receive it with joy; but these have no root, they believe for a while and in time of temptation fall away. And as for what fell among the thorns, they are those who hear, but as they go on their way they are choked by the cares and riches and pleasures of life, and their fruit does not mature. And as for that in the good soil, they are those who, hearing the word hold it fast in an honest and good heart, and bring forth fruit with patience."